Structured

Funding Tools


Venture Assessment Tools Part 2 -

US Air Force Edition
For CEOs, Investors, Boards, & Professionals
USAF Edition: $995

2 Hours, 2 DVD-R
60 MB Handouts
2 Venture Prof. Speakers
4 Tools & Demonstration
USAF VC Report (88 pp)
CEO Presentation
2 Hours Consultation


Video iPod Available!





Contains authentic work performed under two USAF initiated studies on venture capital.


Use of the USAF logo is for descriptive purposes only and is not an endorsement of the parties herein.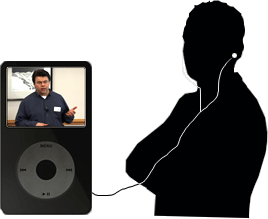 The First Venture Assessment Tools for iPod



Executive user testing indicates clear, distinct benefits of using the New Video iPod as a truly unique personal training tool.

Like true venture skeptics, we did our own due diligence.
The following is based on 6 weeks of our own testing and analysis.

WE VERIFIED that
iPod Truly Delivers Real Personal Training like Never Before
We were so impressed the results we converted 40GB of source material,
then loaded 4 GB of h.264 video on our servers for you to play on it.

We found these benefits to hold true:
Save the Juice! - iPod's 20 hour battery life, lets you to save the precious laptop power for email, spreadsheets, and presentations.
Compact & Private - Privacy in tight spaces: airplanes, slow meetings.
Hip. Let's face it, ugly doesn't get used. Style matters.
Snippets of time - Convenience matters. Be productive in the car, train, or anywhere you have a few extra minutes.
Instant On/Off - No warmup or cool down. Just click and go. You're in and out fast. Instant, smarter gratification.
Undizzy the Roadtrip - A small screen means iPod doesn't make you dizzy in a moving vehicle. It gets used.
More Rugged - than laptops. iPod screens are less likely to crack if dropped or bumped in a moving vehicle.
Immediate Updates - Download new video content now, Drag 'n Drop, Sync with iTunes without leaving your desk.
Solid Value - 30 GB drive space packs more training in less space, for less money. More stuff to play - it gets used.
Compatible - Mac, Windows, TVs, LCD Projectors - it all works consistently. Well designed, frinedly user interface.
Lifestyle - Training now fits into your busy schedule. You're always available for clients, colleagues, and customers.
External HD - Unused space for video can be allocated for data files. Say goodbye to USB flash drives & floppies.
Resale Value - Extensive third party add-ons and support means it retains its value once you're done with it.
TV & LCD Screens - Easily project onto the big screen from your iPod. Resolution is lower as expected, a fair tradeoff.
Use with DVD for the best of both worlds - Preview on iPod first. Use the DVD to get the high rez details later.

Heads up! Venture Investors might recognize these benefits - the New iPod constitutes a Distruptive Innovation over traditional DVD video alternatives. It literally has the power to totally disrupt the status-quo for multiple industries beyond just video (e.g. classroom-style training institutes, video retail, DVD players - components and service, DVD media, DVD Rentals, etc.)
Many Venture Capital firms make it their strategy to invest in Disruptive Innovations to maximize their returns.
3 Easy Steps to True Portable Freedom
Step 1: Order Video iPod from the Apple Store - Buy Online Here
Step 2: Order VenLogic Venture Assessment Tools - Buy Online Here
Step 3: Simply Sync iPod Video using iTunes (included on iPod installer disc), as easy as loading music CDs.

NOTE - If you have the latest iTunes 6, you can already play iPod video files on your desktop.
Try it and see for yourself. Sign up to download this Free Video (Promo code: FREE): VenLogic Highlights 2003.
Video Description: Visual montage set to music. Year end wrapup piece. (6m:43s, 32.4MB Download, .mov in h.264 format)
---